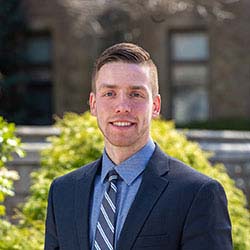 Mr. Alec G. Wizar
Assistant Director
Admissions
Alec is originally from Annville, Pa., where he attended Annville-Cleona High School. He attended Wilkes University, where he majored in communications and minored in marketing and management. Upon graduation from Wilkes in 2016, Alec accepted a position as an assistant director of admissions and began working on a master of business administration degree.
Why Wilkes?
I chose Wilkes because of the opportunity to play college basketball and study a combination of communications and business in a small classroom environment.
Territory
Northern to central New Jersey
Favorite place on campus: Starbucks
Best college advice for prospective students: Get heavily involved and develop a routine! Time management is extremely important to successfully balancing academics, athletics, club involvement, and a social life.
Favorite experience at Wilkes as a student: Basketball games against our River Street rival, King's College!
Favorite thing to do in Wilkes-Barre: Attending the numerous stand-up comedy shows at the Kirby Center downtown
Finish the sentence: On Sunday mornings, I am either sitting in church or watching "The Office" in bed.
Favorite vacation spot: Myrtle Beach, South Carolina
Favorite food: Chipotle
Favorite season and seasonal activity/hobby: summer, golfing
Fun fact: I hold the all-time Wilkes University basketball record for 3-pointers attempted (not made).
Favorite quote: "You miss 100 percent of the shots you don't take – Wayne Gretzky." – Michael Scott