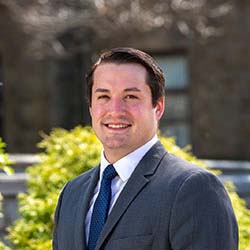 Mr. Ian M. Schreffler
Assistant Director
Admissions
184 South River Street
(570) 408-3321
Ian hails from New Jersey's best-kept secret, Belvidere, where he attended Belvidere High School. He attended Wilkes University for both undergraduate and graduate degrees in business administration.
Why Wilkes?
We are truly a school with that combines the smaller-school personalized and individualized attention in and out of the classroom, with the big-school atmosphere of research opportunities and sports.
Territory
Pennsylvania: Carbon, Lackawanna, Wayne counties
Other States: all states EXCEPT New Jersey, New York, Connecticut, Maryland and Delaware
Favorite place on campus: The top of the Cohen Science Center because you can see all of Wilkes University and a good amount of the city from every angle.
Best college advice for prospective students: Plan a visit and a shadow or overnight visit! This is the best way to get an inside look of what it's like to be a student for an entire day because you attend classes, meet professors, hang out with students, and see the night life.
Favorite experience at Wilkes as a student: studying abroad in Spain, France and Italy
Favorite thing to do in Wilkes-Barre: Concerts, hockey/baseball games, and enjoying all four seasons of the year
Finish the sentence: On Sunday mornings: I am at one of the several local diners enjoying a good breakfast with friends.
Favorite vacation spot: My favorite vacation has been to Ireland, but I enjoy traveling and will continue to so do for as long as I can!
Favorite food: Pizza
Favorite season and seasonal activity/hobby: The fall because of football, which I am lucky enough to coach at a local high school.
Fun fact: I've watched every season of The Office over five times and still watch it regularly.
Favorite quote: "Don't go through life, grow through life." – Eric Butterworth