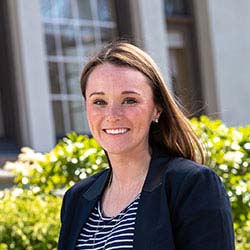 Ms. Kate Jacquelynn Thomas
Assistant Director
Admissions
184 South River Street
(570) 408-4467
Kate grew up in Schuylkill Haven, Pa., where she attended Blue Mountain High School. She came to Wilkes University to pursue a degree in elementary and early childhood education, with a special education certification. She soon changed to business, majoring in marketing and management. She played basketball for four years and competed on the swim team while pursuing her MBA. After a year of working as a graduate assistant in the business office, she became an admissions counselor.
Why Wilkes?
I loved the welcoming environment when I stepped on campus for the first time and I knew that I would get the individualized attention I needed. Playing a sport was also a big part of my decision-making process.
Territory
Eastern and northwestern Pennsylvania counties
Favorite place on campus: Starbucks
Best college advice for prospective students: Be sure to make your visits and get all of your questions answered so that you feel at home the first day that you move in.
Favorite experience as Wilkes as a student: Traveling abroad to Spain, France and Italy
Favorite thing to do in Wilkes-Barre: Bowling at Chacko's
Finish the sentence: On Sunday mornings, I like to have no plans so that I can catch up on life and get ready for the next week.
Favorite vacation spot: Anywhere that has a beach!
Favorite food: Perogies — Mrs. T's, to be exact
Favorite season and seasonal activity/hobby: Fall, because I enjoy hiking the different trails around the area.
Fun fact: I am an assistant basketball coach at Wyoming Seminary.
Favorite quote: "Treat others the way you want to be treated." – My mom