Thank you for your interest in the Air Force ROTC program at Detachment 752!
Our program is open to all full-time college students in any major attending the following colleges/universities in Northeast PA: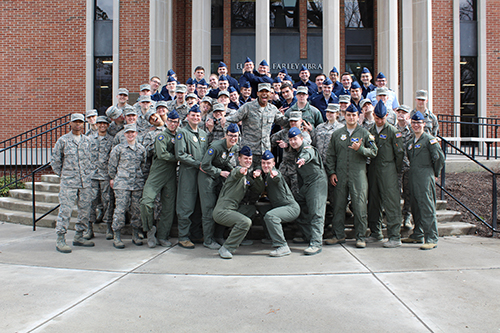 Bloomsburg University
East Stroudsburg University
Kings College
Luzerne County Community College
Marywood University
Misericordia University
PSU - Hazleton
PSU - Schuylkill
PSU - Wilkes Barre
PSU – Worthington Scranton
University of Scranton
Wilkes University
The AFROTC Program consists of 2 classes and a group fitness session:
Academic Class (1 hour/week)
Leadership Laboratory (2 hours/week)
Group Fitness Session (1 hour immediately following Leadership Lab)
All components meet weekly on Thursday evenings at Wilkes University. We also have an additional group fitness session (1 hr) that meets on Tuesday morning (6:00AM - 7:00AM). Students NOT attending Wilkes or Kings are not required to attend fitness training on Tuesdays, but must complete an individual workout on their own time.
We look forward to working with you to achieve your goal of becoming a commissioned officer in the world's greatest Air Force!
AFROTC Registration, Orientation, and Early Move-in:
Students enrolled in the AFROTC program are authorized to have a car on campus – contact us for details.
Non-Wilkes students can contact us to facilitate carpools at your university if needed.
Wilkes Students: Contact your academic advisor and to help you register for the respective AFROTC class and leadership lab (AS 101 & AS 103). Both classes are required. Non-Wilkes students (Crosstown Schools): Contact the detachment no later than the first day of class to enroll. You will not sign up through your academic advisor, however you will need to work with them in order to fit AFROTC classes into your schedule.
To help you plan your class schedule, AFROTC classes are offered the following day & time throughout the academic year:
AFROTC Academic Class (AS 101): Thursday 2:30 – 3:20 p.m. – 1 credit

AFROTC Leadership Laboratory (AS 103): Thursday 4:00 – 6:00 p.m.

Fitness Training: Thursday 6:00 – 7:00 p.m and Tuesday 6:00 – 7:00 a.m. (

Wilkes/Kings Students. All others will complete an individual workout)
NOTE: If you are a sophomore AND starting your 1st year of AFROTC, you will also need to take an additional AFROTC Academic Class (AS 201) held on Thursdays from 1:30 – 2:20 p.m.
It is your individual responsibility to ensure you are properly registered before the start of the semester.
Non-Wilkes students will receive an official Wilkes University transcript at the end of each semester serving as proof of enrollment in AFROTC classes. You will also receive a free temporary parking permit for the Wilkes campus for use on Thursdays.
To begin the Registration Process, New Students Must Accomplish The Following Four Steps:
Complete the

Online Registration Form

.
Fill out the

AFROTC Form 28*

. (You may need to use Internet Explorer web browser to view the form) NOTE: You cannot participate in AFROTC group fitness without completing the form.
Have the AFROTC Form 28 signed by any qualified physician/healthcare professional.
Bring AFROTC Form 28 to New Student In-Processing OR the first day of AFROTC class
*Must download form to view and print.
Questions? Please call the AFROTC department at 570-408-4860 or rotcdl@wilkes.edu.
Early Move In: Any student in the AFROTC program who is participating in the New Student Orientation Program from Aug 20th - Aug 23rd 2019 will have the opportunity to move in early on Aug 20th (all day). This will allow for students in the AFROTC program to get settled in their dorms and avoid the mass freshman move-in day.
Welcome Social: We will host a voluntary Welcome Social on Tuesday, Aug 20th from 4:00 – 5:30PM on the Wilkes campus. This event gives new students, parents, friends and families the opportunity to learn more about AFROTC from department staff. Current students and AFROTC staff will provide an overview of the program, talk about opportunities & benefits, and host a Q&A session on AFROTC life.
New Student Orientation Program: Students who participate in the Early Move-In on Aug 20th will have the opportunity to participate in various icebreaker & teambuilding activities Aug 21st - 22nd to socialize and get acquainted with members of Detachment 752 before orientation day! Students who register for the early move in will receive a detailed schedule of these events via email.
New Student In-Processing: We are hosting a voluntary New Student In-Processing for students new to AFROTC on Friday, Aug 23rd from 11AM – 2PM at the AFROTC department office (UCOM Building – Rm. 112) on the Wilkes campus. New students will complete in-processing paperwork to finalize their enrollment in the AFROTC Program. Come ready to start your journey as a cadet in AFROTC!
Early Move-In: Tuesday, Aug 20th 8:00AM - 4:00PM
Welcome Social: Tuesday, Aug 20th 4:00PM - 5:30PM
New Student Orientation Program: Wed - Thurs, Aug 21st - Aug 22nd 9:00AM - 3:00PM
New Student In Processing: Friday, Aug 23rd 11:00AM - 2:00PM
First Day of AFROTC Class: Thursday, Aug 29th
We will send an email no later than the 1st week of August with details regarding the Early Move In, Welcome Social & Orientation for those who have signed up.
NOTE: Early Move-In, Welcome Social, New Student Orientation & In-Processing are all voluntary events. Both are supervised by active duty Air Force officers and are conducted in an relaxed environment.
Additionally, you will need to bring the following mandatory items with you to the New Student In-Processing to finalize your enrollment in the program:
Original Birth Certificate or naturalization certificate (We will make a copy and return to you during orientation)
Social Security Card (We will make a copy and return to you during orientation)
ACT/SAT score sheet (if taken, copy is acceptable)
Previous College Transcripts from college attended (if applicable)
Any Civil Air Patrol, JROTC or Boy/Girl Scout Certificates
Prior Military Service (DD 214 for individuals previously in the military)
Military Reserve/National Guard Members (Need contract)
Selective Service Registration Printout (males only)
AFROTC Form 28 (Sports Physical - see below)
---
For further information please contact us at 570-408-4860 or rotcdl@wilkes.edu