Chances are, you have an idea of what the ideal college campus is like. Ivy-covered walls. Tree-lined streets. Students relaxing on the lawn, enjoying a sunny day as a bell tower calls out the hours.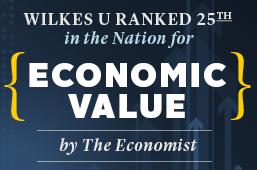 Spend some time walking around campus and you'll feel.
Learn about Visit Days at Wilkes
Each of our residence halls is as unique as you are, ranging from contemporary to Tudor style. One even has a rope swing in the backyard.
If you get the gut feeling this might be the place for you, you're probably right.
Schedule a personalized visit today and confirm your suspicions.Looking for a preview before your visit to campus, check out our virtual tour. Or, if you prefer, plan to attend one of our
Don't forget to ask about Wilkes University new Instant decision process when you are scheduling a visit!

Tour Campus Virtually!
Explore the Wilkes University campus through our virtual tour. Discover academic buildings, residence halls, the Farley Library, The Darte Center for the Performing Arts, the Henry Student Center and more!