We offer an educational experience that will uniquely prepare you for success.
Wilkes encourages students to:
Often a college graduate's first job is at the same company where he or she interned. In a highly competitive job market, that's a nice advantage. Over the course of the next few pages, we'll remind you about some of the things that make Wilkes University special and a great fit. You'll also hear from some people who were in your shoes not too long ago.
See where the class of 2020 headed after graduation!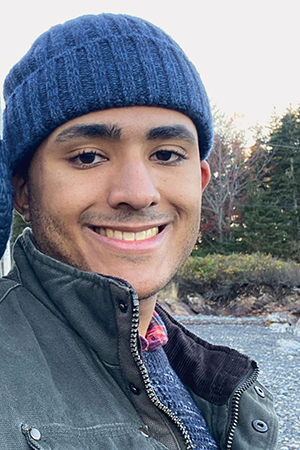 Isaiah McGahee '20
English Major
Hometown: Wilkes-Barre, Pennsylvania
Involvement: UNICEF, Pre-law Society, Inkwell Quarterly, The Beacon newspaper
Now: Graduate Student at Binghamton University
After exploring a couple majors, Isaiah found his passion in English. He researched the language of Chaucer and identity formation in African-American literature, and has presented his work at conferences.
"Dr. (Sean) Kelly was an invaluable asset in helping me achieve admission into a number of graduate programs. He really helped me set myself apart from other applicants."
"Wilkes was a fantastic value for my educational investment. As a Wilkes-Barre native, I saved thousands by commuting, and for that I am extremely grateful."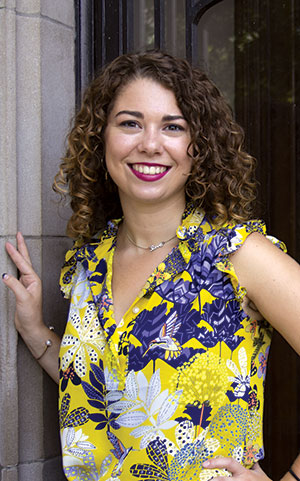 Caroline Rickard '20
Communication Studies Major
Hometown: Orwigsburg, Pennsylvania
Involvement: Zebra Communications, Alternative Spring Break, cross country captain, Kirby Scholar at Wilkes' Allan P. Kirby Center for Free Enterprise and Entrepreneurship
Now: Media Strategist at Fingerpaint
Caroline immersed herself in a string of internships. Her first was with the talent booking startup Special Guest App, followed by social media work for Wilkes admissions and marketing offices. Her video series "Colonel Journal" earned thousands of views.
As Kirby Scholar for communications in Wilkes' Kirby Center for Free Enterprise and Entrepreneurship, she advised clients on marketing plans and social media campaigns in addition to creating print and digital content.
"My involvement in different activities within the university has allowed me to create new experiences and build relationships with friends and professors."
HUNTER HUGHES '20
NEUROSCIENCE MAJOR/PRE-MED
Hometown: Kingston, Pennsylvania
Now: Medical Student at Penn State College of Medicine
GRACEN STAUNTEN '20
PSYCHOLOGY MAJOR
Hometown: Kernersville, North Carolina
Now: Behavioral Health Worker at Children's Service Center
MELANIA VELASQUEZ '20
CRIMINOLOGY AND SOCIOLOGY MAJOR Hometown: Baltimore, Maryland
Now: Choice Program at University of Maryland-Baltimore County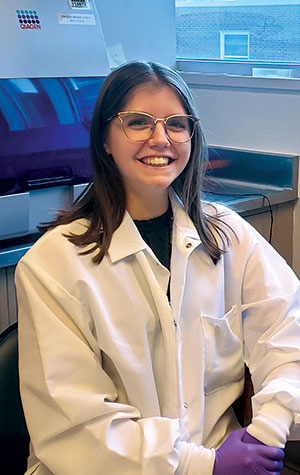 Emily Kamieniecki'20
Medical Labratory Science Major
Hometown: Lafayette Hill, Pennsylvania
Involvement: Beta Beta Beta biological honor society, e-mentor, research
Now: Medical Laboratory Scientist at the Hospital of the University of Pennsylvania
Emily's varied research opportunities with three professors included paid summer positions as she investigated shrew parasites, nest failure in songbirds, and genetic techniques in microbial communities. That last work earned her a trip to San Francisco to present at the American Society of Microbiology.
"These experiences set me apart during my application and job-hunting process. I also had an exceptional academic advisor."
Shortly after graduation, Emily achieved board certification and now helps match donor organs with potential patient recipients.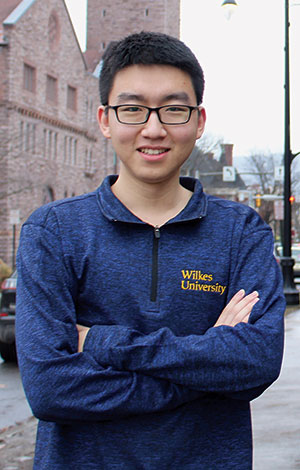 Simon Chu '20
Computer Science and Mathematics Major
Hometown: Liaoyuan, China
Involvement: Resident assistant, e-mentor, Math and Computer Science Club president, Asian Cultural Society secretary, American Red Cross volunteer, research
Now: Doctoral Candidate at Carnegie Mellon University
Simon launched into research his first year, working with two professors in developing a machine learning system for a veterinarian's office. He also created an image processing library.
"I love Wilkes' close-knit community, as well as having professors who truly care about students' well-being," he says. "The extracurricular activities are transformative, and I was able to make lifelong friends and connections."
NISHA PATEL '20
BIOLOGY MAJOR
Hometown: East Greenville, Pennsylvania
Now: Dental Student at Touro College of Dental Medicine
EMMETT JODON '20
ENVIRONMENTAL SCIENCE MAJOR
Hometown: Clifford Township, Pennsylvania
Now: Associate at Environmental Abatement Associates
MATTHEW AMARAL '20
BIOCHEMISTRY MAJOR
Hometown: Moosic, Pennsylvania
Now: Laboratory Technician at Clinical Science Laboratory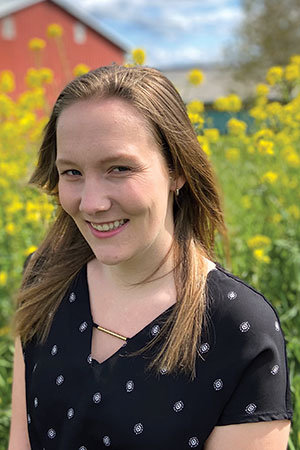 Lacey Bradshaw Marcolla '20
Electrical Engineering Major
Hometown: Needmore, Pennsylvania
Involvement: Admissions ambassador, teaching assistant, vice president of Society of Women Engineers, Institute of Electrical and Electronic Engineers member, Engineering Olympics
Now: Engineer 1 at Pike Engineering
Lacey's cooperative learning, or co-op, experience at ON Semiconductor was monumental in her Wilkes career. "I strongly recommend that every college student have at least one internship before graduating so that they can understand what they want to do in the future."
The Wilkes community makes it easy to get involved on campus and meet new people, she says. "It feels like everyone at Wilkes is part of my extended family. I loved my first year at Wilkes so much that my sister, who is a year younger than me, chose to attend Wilkes as well."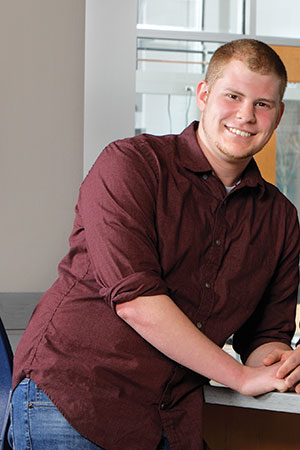 Richard Supkowski '20
Mechanical Engineering Major
Hometown: Mountain Top, Pennsylvania
Involvement: American Society of Mechanical Engineers president, physics teaching assistant, research
Now: Mechanical Design Engineer at Borton-Lawson and Innovation Assistant at Precise Visual Technologies
"Mechanical engineering can get you into a lot of doors," Rich says. "It opens the field for a lot of things." He made sure to explore as many as he could. He used coding skills learned freshman year to help a professor researching fuel additives that limit fires during vehicle crashes or spills. His skills earned him internships with MTF Biologics and Borton-Lawson Engineering, where he now works full time.
"Here, professors get to know you. It's not just getting to know your name."
BRANDON BREA '20
PHYSICS AND ELECTRICAL ENGINEERING MAJOR
Hometown: Wilkes-Barre, Pennsylvania
Now: Failure Analysis Engineer at Qualcomm
NICOLE HART '20
ENVIRONMENTAL ENGINEERING MAJOR Hometown: Candor, New York
Now: Law Student at University of Buffalo
SEAN WESTAWSKI '20
ELECTRICAL ENGINEERING MAJOR
Hometown: Hanover Township, Pennsylvania
Now: Engineer at Lockheed Martin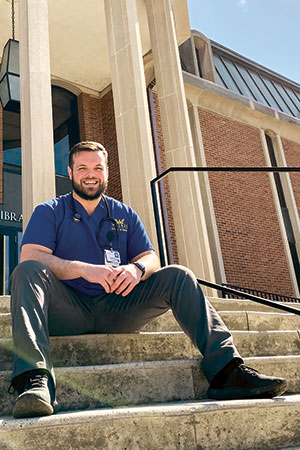 Kyle McHale '20
Nursing Major
Hometown: Wilkes-Barre, Pennsylvania
Involvement: Worked an off-campus job 40 to 60 hours a week throughout his college career
Now: Cardiovascular Intensive Care Nurse at Wilkes-Barre General Hospital
Clinical rotations at local hospitals and clinics affirmed Kyle's passion to become a nurse, and the First Generation Scholarship he received helped him achieve his goal. Instructors went the extra mile to support him through the nursing program.
"Wilkes allowed me to work within a local network of people I knew before coming to Wilkes. Along with that, it made the job search process easier having so many local resources for information. Wilkes University is truly a community-driven school."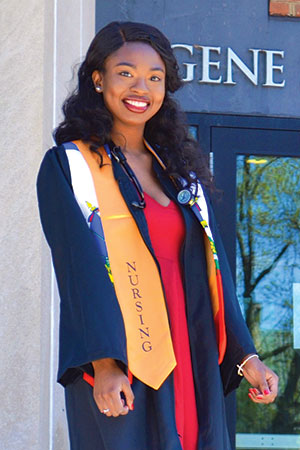 Rebecca Glaude '20
Nursing Major
Hometown: Shavertown, Pennsylvania
Now: Home Health Registered Nurse at Pathways Healthcare
After dealing with a traumatic experience, Rebecca's college grades suffered. "With the encouragement of family, friends, and the wonderful faculty at the Passan School of Nursing, I was able to bring in grades higher than I had before and earn a degree that I can be proud of."
Rebecca met faculty with different teaching styles that enabled her to grow.
"(Wilkes) gave me the tools and foundation I needed to start my career as a registered nurse."
KAYLA WEDLOCK '20
NURSING MAJOR
Hometown: Plymouth, Pennsylvania
Now: Neurological Critical Care Nurse at University of Tennessee Medical Center
LINDSEY KLINGES '20
NURSING MAJOR
Hometown: Harding, Pennsylvania
Now: Progressive Care Unit Nurse at Geisinger Wyoming Valley
ERIN GREEN '20
NURSING MAJOR
Hometown: Gwynedd Valley, Pennsylvania
Now: Cardiac Short Stay Unit Nurse at St. Luke's University Hospital Bethlehem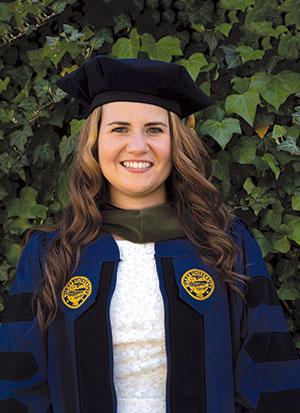 Lauren Hertzog '20
Pharmacy Major
Hometown: Mertztown, Pennsylvania
Involvement: Summer research, golf, volleyball, dance team, Alternative Spring Break trip leader, pharmacy class vice president, Kappa Psi, Pharmacy Senate, pediatric pharmacy advocacy group, Pennsylvania Pharmacists Association, American Pharmacists Association
Now: Lieutenant in the U.S. Public Health Service and Pharmacy Resident in the Indian Health Service, Gallup, New Mexico
Lauren found her passion for public service in Wilkes' Alternative Spring Break program, which leads students on weeklong service trips. She found faculty and staff members who opened her eyes to possibilities and encouraged her goals.
"Wilkes provided me with so many opportunities to turn me into a well-rounded pharmacist
and person. I was able to stay heavily involved in activities within and outside of pharmacy school. It is a very close-knit community, and my professors were always there when I needed help."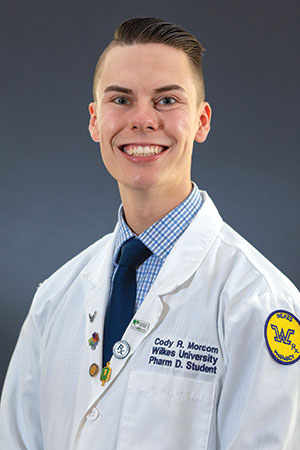 Cody Morcom '20
Pharmacy Major
Hometown: Scott Township, Pennsylvania
Involvement: Student Government president, CVS Health Foundation Scholars Program, e-mentor, resident assistant, Pennsylvania Pharmacists Association Student Advisory Board chair, Phi Lambda Sigma Pharmacy Leadership Society chapter president, Nesbitt School of Pharmacy Student Senate president
Now: Captain and Pharmacist in the U.S. Air Force
Cody dove into opportunities opened to him at Wilkes, from leadership roles in Student Government and the Nesbitt School of Pharmacy, to connecting with alumni who told him about U.S. Air Force options. "I feel more than prepared to work each day as a pharmacist and leader with the U.S. Air Force because of the values instilled within by the faculty and staff at Wilkes."
"Wilkes may be a small university, but I truly felt like I had every resource I needed while a student. I was fortunate enough to receive various scholarships or extracurricular positions that allowed me to reduce student debt."
SIDNEY WILSON '20
PHARMACY MAJOR
Hometown: Alburtis, Pennsylvania
Now: Pharmacist at Lehigh Valley Hospital
CASEY RITSICK '20
PHARMACY MAJOR
Hometown: Mountain Top, Pennsylvania
Now: Postdoctoral Fellow in Global Pharmacovigilance at Sanofi Pasteur
ELENA DENGER '20
PHARMACY MAJOR
Hometown: State College, Pennsylvania
Now: Pharmacy Resident at Geisinger Health System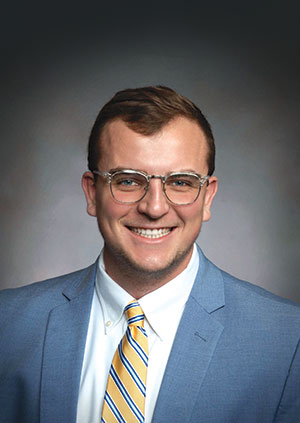 Seth Platukis '20
Secondary Education and Biology Major
Hometown: Weston, Pennsylvania
Involvement: Education Club treasurer, Biology Club member, laboratory facilitator for Women Empowered by Science and Adventures in Science programs for middle and elementary school students, Alternative Spring Break trip to Costa Rica, photographer for The Beacon newspaper and yearbook
Now: Secondary Science and Career Technology Teacher for Wiscasset (Maine) School Department
Seth marveled at the variety of opportunities he could get involved in at Wilkes. "My observational/teaching experiences solidified the fact that I knew I was meant to teach, while working in the lab, community outreach experiences and research opportunities really broadened my understanding and welcoming to teach all different kinds of subjects under the umbrella of STEM."
Guidance came not only from professors but also from staff and students who ran extracurriculars, engagement opportunities and outreach initiatives.
"No matter what title someone held, they were always full of a bounty of knowledge that would help to guide you in one direction or another."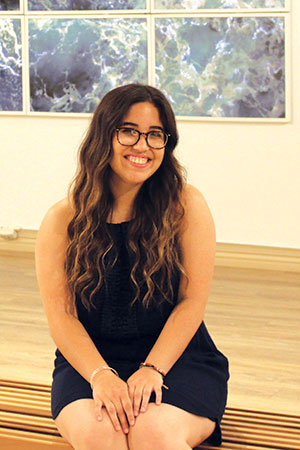 Olivia Caraballo '20
Middle Level Education Major with Special Education Certification
Hometown: Kingston, Pennsylvania
Involvement: Sordoni Art Gallery outreach ambassador, resident assistant, co-director of Vagina Monologues
Now: Special Education Teacher at the Graham Academy
Originally a secondary education major, Liv discovered a passion for special education in one particular placement. "The week after I started, I changed my major to mid-level education so I could teach fourth through eighth grade, and I added special education."
As the Sordoni Art Gallery's outreach ambassador, she expanded her classroom skills by creating hands-on, inclusive activities and encouraging discovery among children in the Wilkes-Barre community. "With Wilkes, it was home right away. I found my niche in the world."
MICHAEL BROWN '20
ELEMENTARY AND EARLY CHILDHOOD EDUCATION MAJOR
Hometown: Plains, Pennsylvania
Now: Special Education Teacher at Wyoming Valley West School District in Pennsylvania
JESSICA ROXBY '20
SECONDARY EDUCATION AND MATHEMATICS MAJOR
Hometown: Pittston, Pennsylvania
Now: Mathematics Teacher in Casa Grande (Arizona) School District
KYLIE PINTHA '20
ELEMENTARY AND EARLY CHILDHOOD EDUCATION MAJOR
Hometown: Pittston, Pennsylvania
Now: Multiple Disabilities Teacher in Fairfax County (Virginia) Public Schools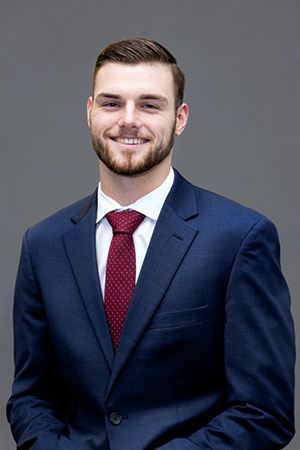 Mark Mullins '20
Corporate Finance Major
Hometown: Binghamton, New York
Involvement: President's Student Advisory Committee, Student Athlete Committee, work-study jobs in the President's Office and Admissions, basketball
Now: Proposal Analysis Associate at Lockheed Martin
Mark believed every person around him at Wilkes would do everything possible to help him achieve whatever path he decided to pursue. That included resume and job interview preparation and connecting him with people. The basketball coach helped him develop as a person both on and off the basketball court.
"Wilkes was a great investment in my future. I was able to get a fantastic job, even in this economic environment where getting a job is very difficult."
"The small campus helped me to grow in communicating with people I did not know. You engage with professors and students in group projects and in the classroom. That does not happen at larger schools."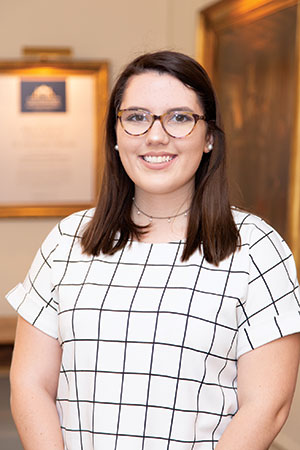 Ashley Abbey '20
Marketing and Management Major
Hometown: Scottsville, New York
Involvement: Honors Program, Business Development Scholar for the Allan P. Kirby Center for Free Enterprise and Entrepreneurship, United Nations University Scholar Leadership Symposium in Thailand
Now: MBA student at Alvernia University
Wilkes University opened the world to Ashley — quite literally. She traveled to Thailand with honors students, to Finland to present research at the University Industry Innovation Network, and to Germany, Austria and Switzerland during a spring break business course.
"I made many valuable relationships that help my personal and professional development and set me up for success post-graduation," notes Ashley, who also interned with the local Chamber of Commerce.
"This is experience is what you make of it. Start saying yes, get involved and allow yourself to be fully immersed into the culture."
MARIAH CURTIS '20
MARKETING MAJOR
Hometown: Kingston, Pennsylvania
Now: Talent Coordinator at ENX2 Marketing
CONNOR DALY '20
MANAGEMENT MAJOR
Hometown: Oakhurst, New Jersey
Now: Incoming Area Manager at Amazon in California
JORDON HICKS '20
MANAGEMENT MAJOR
Hometown: West Plains, Missouri
Now: Pilot for the U.S. Air Force
One way to add value to your degree is to take on an internship. Wilkes University's Center for Career Development and Internships can help.
Wilkes students intern at some of the most prestigious companies in the country: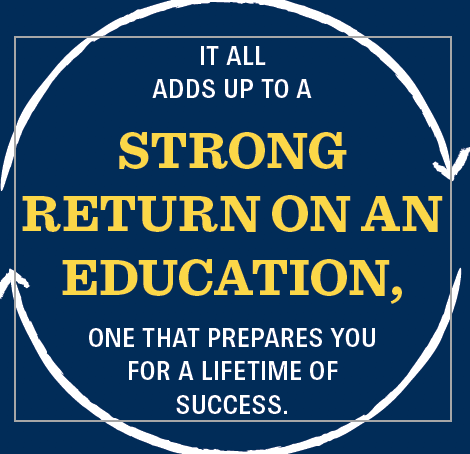 Questions?
We are just a phone call or email away.
Phone: 800-WILKES-U Ext. 4400
Email: admissions@wilkes.edu
More Information: www.wilkes.edu/admitted