CORONAVIRUS UPDATE
Due to international concerns about coronavirus, Wilkes University has canceled Admissions events for the next few weeks. These events include:
March 24: Colonel Overnight Experience
March 26: ROTC Open House
March 30: Law Day
April 3: Colonel Overnight Experience
April 4: Accepted Students Day
April 5: Earth and Environmental Science Field Day
At this time there are no confirmed cases of coronavirus at Wilkes University, but we are taking every precaution to protect our campus community and our prospective students. This is a developing, dynamic situation that will be met by the resolve rooted in our values and our care for one another. In the meantime, please explore our virtual tour and social media channels to get a feel for campus life. We look forward to welcoming you to campus soon. For the latest information, please visit wilkes.edu/coronavirus.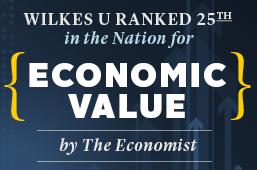 Imagine
You are here. Or you could be.
Visit campus to experience what makes Wilkes unique.
We offer plenty of opportunities for you to get a closer look at campus, so you can pick one (or more) that works best for you.
---
Take a virtual tour
Get to know Wilkes better before making your visit.
Want more one-on-one attention? Plan a personalized visit at your convenience. You'll tour campus, meet with an admissions counselor, and maybe even chat with a professor or coach.
Visits may be scheduled:
Monday through Friday at 10 a.m., 11 a.m., and 2 p.m.
Select Saturdays from September through April at 10 a.m. and 11 a.m.
(Saturday visits includes only group admissions session and campus tour)
Please contact our admissions office with any questions: (570) 408-4400 or admissions@wilkes.edu.
Why wait and worry about whether you'll get into the school of your choice? If you're a high school senior or transfer student, you don't have to. Complete an online application and schedule a personalized visit. Bring all supporting documents with you, and we'll have a decision ready by the time you finish the campus tour.
Patrons requesting accommodations or services at Wilkes University or Wilkes University-sponsored events in accordance with The Americans with Disabilities Act (ADA) Title III: Public Accommodations are asked to contact the University at 1-800-Wilkes-U to request such services/accommodations. It is recommended that requests be made at least 48 hours prior to any event.