On Sunday, September 12, 2021 at 1:00 p.m. we celebrate the achievements of our graduates when we host our summer commencement.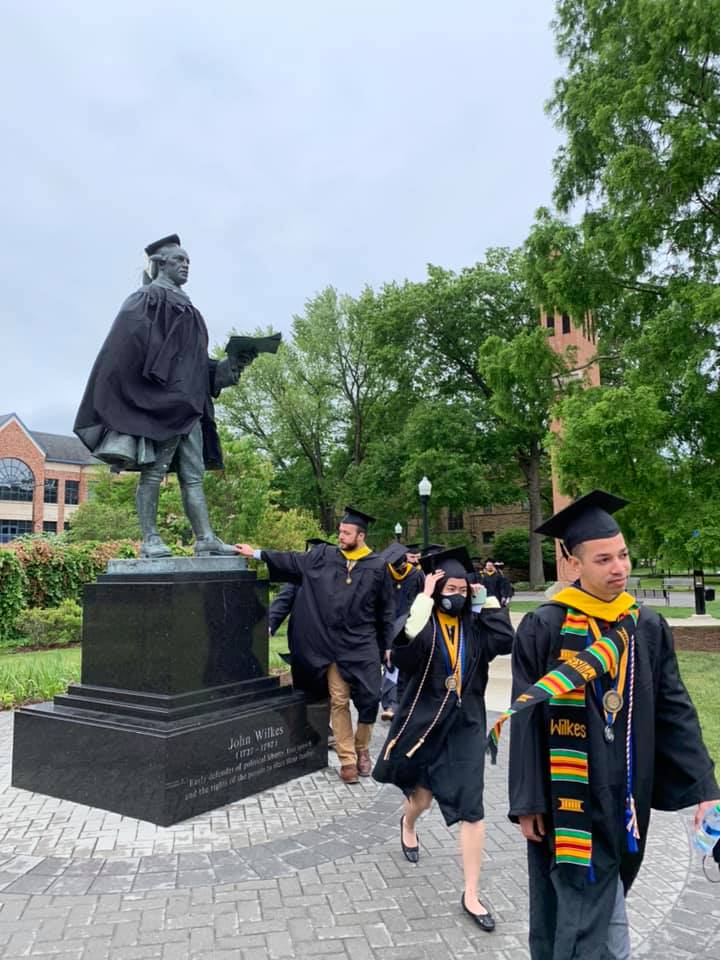 Annual Summer Commencement at Wilkes University
The annual summer commencement ceremony will be held at the Arnaud C. Marts Center at 274 South Franklin Street. The ceremony will begin at 1 PM. Doors to the Marts Center will open at 11:45 AM for graduates and their families. Tickets are not required for the ceremony. University staff and ushers will be positioned at information tables in the lobby to answer questions from families and guests. Seating for graduates will be reserved. Seating for guests should be adequate, but we encourage guests to arrive early to avoid any disappointment. At the conclusion of the ceremony, the graduates will recess to the sidewalk in front of the Marts Center (weather permitting). Smoking and drinking alcoholic beverages are prohibited inside the Marts Center. Consumption of alcoholic beverages is prohibited in all University parking lots. A reception for graduates and their families will be held on campus immediately following the ceremony. The ceremony should end by 2:15 PM.
Registering for Summer Graduation
If you intend to graduate on September 12, it is imperative that you are registered for GRD 000 for the 2021 Summer Term. This registration alerts the University of your intention to graduate. Your registration for GRD 000 will allow you to complete your cap and gown order and your diploma order form.
Assembly of Graduates
Graduates will assemble at the lower level of the Arnaud C. Marts Center (274 South Franklin Street) beginning at 11:45 AM. The final line-up of graduates will begin at 12:30 PM. Do not bring valuables to the robing/line-up area as there will be no place to lock them away. Please be on time for the line-up of graduates. Those who are not in line in academic regalia as the procession begins will not be able to march in the parade of graduates with their classmates.
Diplomas
The Deans for Student Affairs will announce the names of the graduates in alphabetical order by college, honors status, and major. Graduates will be placed in line for the academic procession according to where their names appear in the commencement program. The University makes every attempt to present graduates with their diplomas. Should you receive someone else's diploma by mistake, please see the Registrar at the end of the ceremony at the stage. Graduates with outstanding debts to the University will not receive their diploma until the debt is satisfied.
Latin Honors/Honors Cords
Undergraduates earning Latin honors – meaning Summa Cum Laude, Magna Cum Laude or Cum Laude - will be able to pick up their honors medals at the Office of Student Affairs after September 1. Honors medals that weren't picked up will be available at the Marts Center when you arrive for line-up on the day of your ceremony. Students who have earned honors cords or sashes, should secure those from the faculty or staff advisor of your student organization. Honors cords won't be available at the Marts Center on the day of the ceremony, so please plan ahead to secure your honor cord from your advisor.
Photographs
Earl and Sedor Photography will take a photograph of each graduate when the President awards the diploma. Earl and Sedor will provide information to all graduates as to how they can access their proofs on line. No one, except for the professional photographer and the media with appropriate credentials, will be allowed near the stage area for the purpose of taking photographs or videotaping.
Videotaping/Live stream
The commencement ceremony will be videotaped. The video will be archived on the University's website for later viewing. If you are unable to attend Wilkes' Commencement Ceremony, attend virtually! Join us for this momentous occasion as we live stream the ceremony online. Live stream https://boxcast.tv/view/wilkes-university-2021-summer-commencement-316371
Parking
All University parking lots will be open and available for parking on Commencement day.
Special Assistance Seating
Special seating for guests with mobility impairments is available on the floor and on the first level of the stands at the Marts Center. Because of space constraints, one escort may accompany the mobility-impaired individual to the special seating area. Arrangements for disability seating can be made by dialing the Office of Student Affairs at (570) 408-4100 no later than September 9.
Academic Attire
All graduates participating in the commencement ceremony must wear proper academic attire. The charge for the cap and gown is included in the commencement fee.
Your academic attire will be mailed to you by Oak Hall prior to commencement. If you wish to iron your academic apparel, do so with a cool iron. Do not worry about how to "don" the hood; we will help with that on Commencement Day.
You will want to wear comfortable clothes for your ceremony, but not too informal. For your safety we urge you not too wear loose fitting sandals or stiletto heels as the graduates will be processing from the lower level of the Marts Center. You will be posing for photos all day so you will want to look your finest. It's not every day that you graduate. Student Affairs staff will be available at the Arnaud C. Marts Center to help graduates with robing.
QUESTIONS?
If you have questions please call the Office of Student Affairs at (570) 408-4100. In case of an emergency on Commencement weekend, please call Public Safety at (570) 408-4999.