The institution we know today as Wilkes University began in 1933 when Bucknell University established its Junior College in Wilkes-Barre, PA.
Bucknell University Junior College (BUJC) attracted eager, highly motivated, and able young persons, virtually all of whom were the first members of their families to benefit from higher education.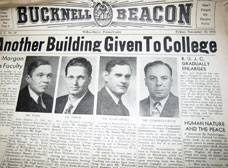 The Junior College also received support and encouragement from leading members of the Wilkes-Barre community. The stately mansions that are now used as residence halls and offices are a testament to the tradition of community service and generosity characteristic of the Wilkes-Barre area's leadership.
In 1947, Wilkes College was instituted as an independent, nondenominational
four-year college, with programs in the arts, sciences, and a number of professional fields as well as a full program of extra-curricular activities. Designation as Wilkes University in 1990 capped an eventful and productive half-century of development and signaled the beginning of a new era of progress as an increasingly distinguished and prominent academic institution.
Wilkes University further distinguished itself in 1996 when the eagerly anticipated School of Pharmacy opened. Three years later, through a generous gift from Mrs. Geraldine Nesbitt Orr, the Nesbitt School of Pharmacy at Wilkes University was established.
In 2004, the Jay S. Sidhu School of Business & Leadership opened its doors with a unique program that emphasizes not only business skills, but also the value of cognitive and emotional intelligence.

In 2005, the "new" Henry Student Center was expanded and the University purchased an 80,000 square foot building in downtown Wilkes-Barre.

In 2013, the new $35 million Cohen Science Center opened and brought four floors of state-of-the-art laboratories that encourage even more interdisciplinary research and study. It houses the departments of Biology and Health Sciences, Chemistry and Biochemistry, and Environmental Engineering and Earth Sciences.